Senior Golfer Ties for Win at Tourney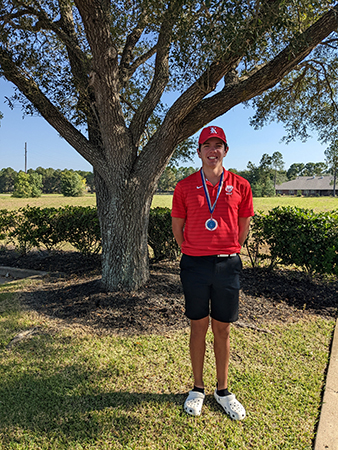 Senior varsity golfer, Reese Tortone, placed  1st at the tournament at The Wilderness in Lake Jackson on Monday, Oct. 10 with a score of 71.
"The year, everyday at least 3 hours a day, 30 hours a week, I have been practicing," said Tortone.
The Wilderness tournament in Lake Jackson was Tortone's first tournament of the year.
"I know I had about a 3 shot lead after about 7 holes and then did not do well, and I almost holed out and had a tap in birdie to win," said Tortone.
The season, which started last week and ends in March, is a long haul for the Golf Team with a tournament about every 3 weeks playing about 6 tournaments a season.
Tortone added, "I will just keep practicing and the one day I take off from practice, is a day where someone else gets better than me."